Drain Cleaning, Repairs And Maintenance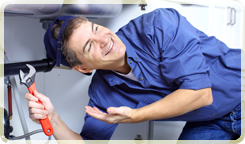 Most of the homes in the area have been around for a while and in need of repairs and maintenance. Part of this caring for the residences involves drain cleaning if and when they jam. While a homeowner might tackle the occasional clogging, some require the help of professionals. We offer affordable plumbing service if you have this need.
Drain Cleaning Done With Powerful Tools
Are you in a position to tackle blocked drain repair using regular home tools. Maybe your Home Depot plunger might be capable of handling the job. But in case it isn't, we have better and more effective tools that can help unstop any pipelines.
Our bathroom sink drain services are delivered by plumbers that do this for a living. It is hard to go wrong with any of our guys because on a daily basis he will handle the same problem maybe around 10 times. Since we don't shut down, that is 3,650 drains per year.
Experienced Plumbers Available To Unblock Your Drains
We perform drain repairs and make sure that you don't have any leakages in your pipelines. When you have these problems, make sure you hire an experienced plumber. You shouldn't go with the first person you see online. You should select a servicer you can trust instead.
In addition to having the skills and the willingness to work on any job, we have sophisticated tools that we employ to fix any blockages. We have a drain camera hire service that will look inside the gunk in your pipelines to see where the blockage is. Once we identify it, we will be able to rectify the situation.