Toilet Repair And Replace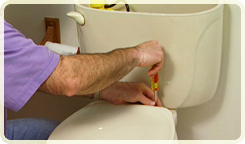 Replacing toilet is not a job for the less skilled nor is it a task for people who like to keep their hands clean. If you hate bad smells it is not something you should attempt either. But this is our bread and butter. We derive joy in working on broken toilets any day of the week.
Toilet Repair Offered
As a team of highly skilled and well-coordinated service, we can install a toilet any time that you need this job done. We are a highly efficient plumbing company and can recommend good units that use less water per flush. Over time, these will save you money and can be highly efficient.
We are also masters in toilet repairs and will help you if you need toilet handle repair, which is one of the most common problems we get called for a lot. If you are having a hard time flushing your toilet, let our people sort it out for you. We are here any time of the day or night whenever you need us.
Clogged Toilets Cleared And Leaks Fixed
Do you have a toilet clog that you need to be taken care of? We have to come quickly because you probably don't want to end up with a big mess in the house. If you want a clean home and one that is sanitary, we have the right solution for you.
If you have been experiencing a high water bill, it might be caused by a leaking tank. If you have been hearing your commode flush itself or empty out of water even when no one has used it, you are losing plenty of water unnecessarily. You should call so that we can help you fix toilet leak and help you save money.