Fix Water Leak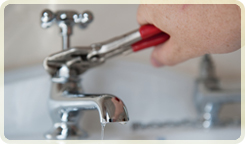 You are the conserving type and like saving water as well as recycling to save the planet. You will not be a happy camper if you need someone to help you fix a leak and can't locate a plumber who can come immediately. But you will be surprised to learn that we respond immediately and are available 24 hours a day. If you call us in the middle of the night we will be there.
Water Leak Stopped Immediately
We can help you stop a leaking shower and help save water damage to your house frame or foundation. We are very skilled when it comes to availing our services to our customers and can get your problem solved in a matter of minutes.
If you have a water leakage in your kitchen because the water heater located in the attic is broken, we can solve this problem and help save you plenty of money that you could waste down the road. All you need to is dial our number. Someone will be on the way fairly shortly.
Leaking Pipes And Slab Leaks Repaired
Are you experiencing leaking pipes in your yard or anywhere in the house and can't locate the source or even the cause of the leakage? You shouldn't worry because you have our expertise. We will be able to quickly and shortly arrive and help solve the problem.
We can also do slab leak repair which when a homeowner finds it can really terrify them. You should rest easy in knowing that we've got this covered. In many cases, we will be able to do the repairing without digging up the concrete, which will save you money.